Powder Coating
What Is Powder Coating?
A popular form of metal finishing, powder coating has a multitude of advantages over conventional wet spray application techniques. During the process, paint is applied to metal items using a spray gun before pieces are cured in industrial ovens. Utilising compressed air, spray guns apply the powder coating electrostatically, meaning they're naturally attracted to the negatively charged piece of metal. By applying the powder coating in such a way, we remove the need for a solvent (or liquid substance) to bind the particles together. The metal parts are then cured in purpose-built ovens, before being distributed to vendors and clients across the UK.
Find out about our specific capactities below, or call us on 01782 595388 for estimates and quotes.
What Are The Advantages of Powder Coating?
Powder coating has a litany of financial advantages that have lead to it becoming the preferred method of metal finishing across the industry. Powder coating parts doesn't require the use of a solvent, and, using industry-leading ovens, enables us to cure pieces quickly and evenly, eliminating the risk of surface run-off, scratch marks and uneven patches.
Also, during the curing process, particles form a durable 'skin' around the metal product. Not only is this skin much more hard-wearing than traditional paint applications, but it also encapsulates the metal item, protecting vulnerable materials (metals) from environmental affects, weathering and corrosion.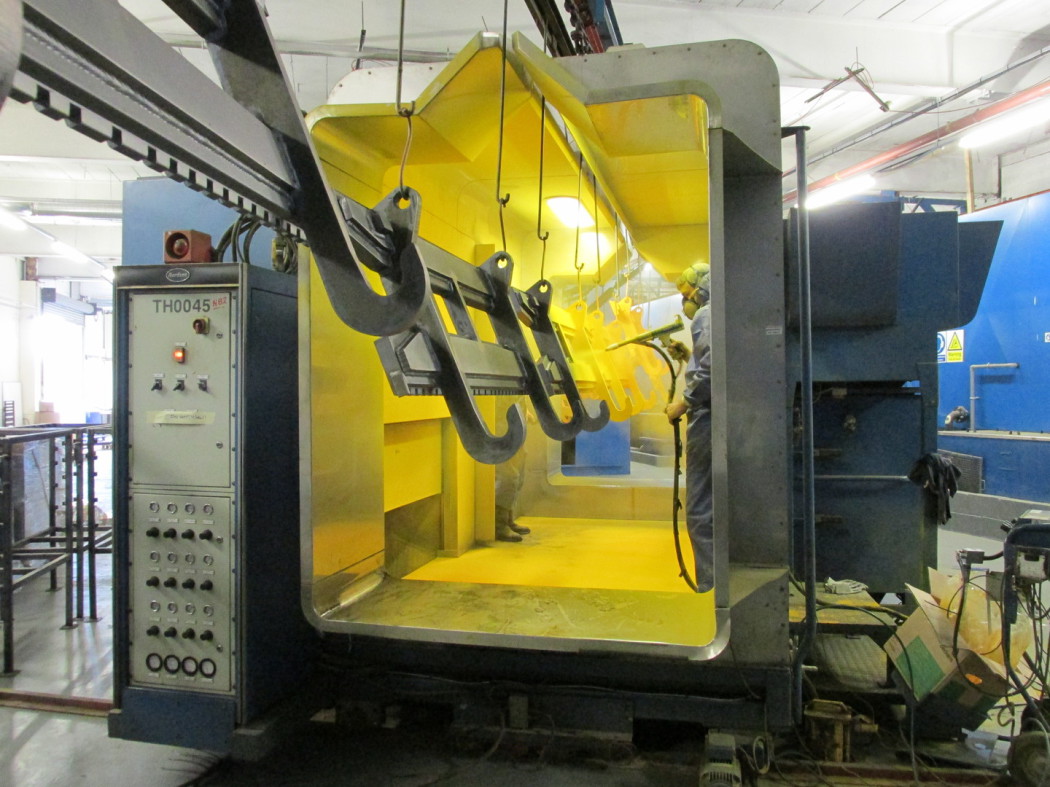 As a service, powder coating is a cost-effective technique that doesn't only increase your metal fabrications' aesthetic appeal, but also goes on to improve upon their durability and expand their lifespan; get in touch today to increase your return by enhancing your products' quality.
Powder Coating with Rayne
Here at Rayne, we offer our clients an infallible powder coating service complimented by a wide array of metal treatment and finishing solutions. As standard, all of our items go through a rigorous five-stage pre-treatment process, giving them unyielding corrosion resistance and enabling them to achieve 1000 hours of salt spray testing. We've also heavily invested in our own shot blasting plant and salt spray testing facilities, further helping us to develop durable, refined products in a single location.
When it comes to our industry-leading powder coating service, we have the mechanical ability, and technical expertise, to coat and cure items up to 450kg, consolidating our reputation as one of the largest scale industrial powder coating firms in the UK, and enabling us to comfortably handle large scale, recurring production runs.
Prioritising customer satisfaction and efficiency, our powder coating service helps to add value and longevity to your metal pieces at an affordable rate. Enquire about a project today by getting in contact with us online or over the phone.